There are so many Craftivist projects and patterns in play. Please email us if you have a craft action you would like to showcase or want help recruiting craftivists to implement your ideas. We are also happy to share new projects in our newsletter. For more information go to our contact us page here on the Craftivist website.
We hope you will also check out the links below to our groups on Ravelry and Facebook and participate. It's important for us to have a place to share ideas and projects, thoughts and frustrations. All craft mediums and levels of political and craft expertise are always welcome.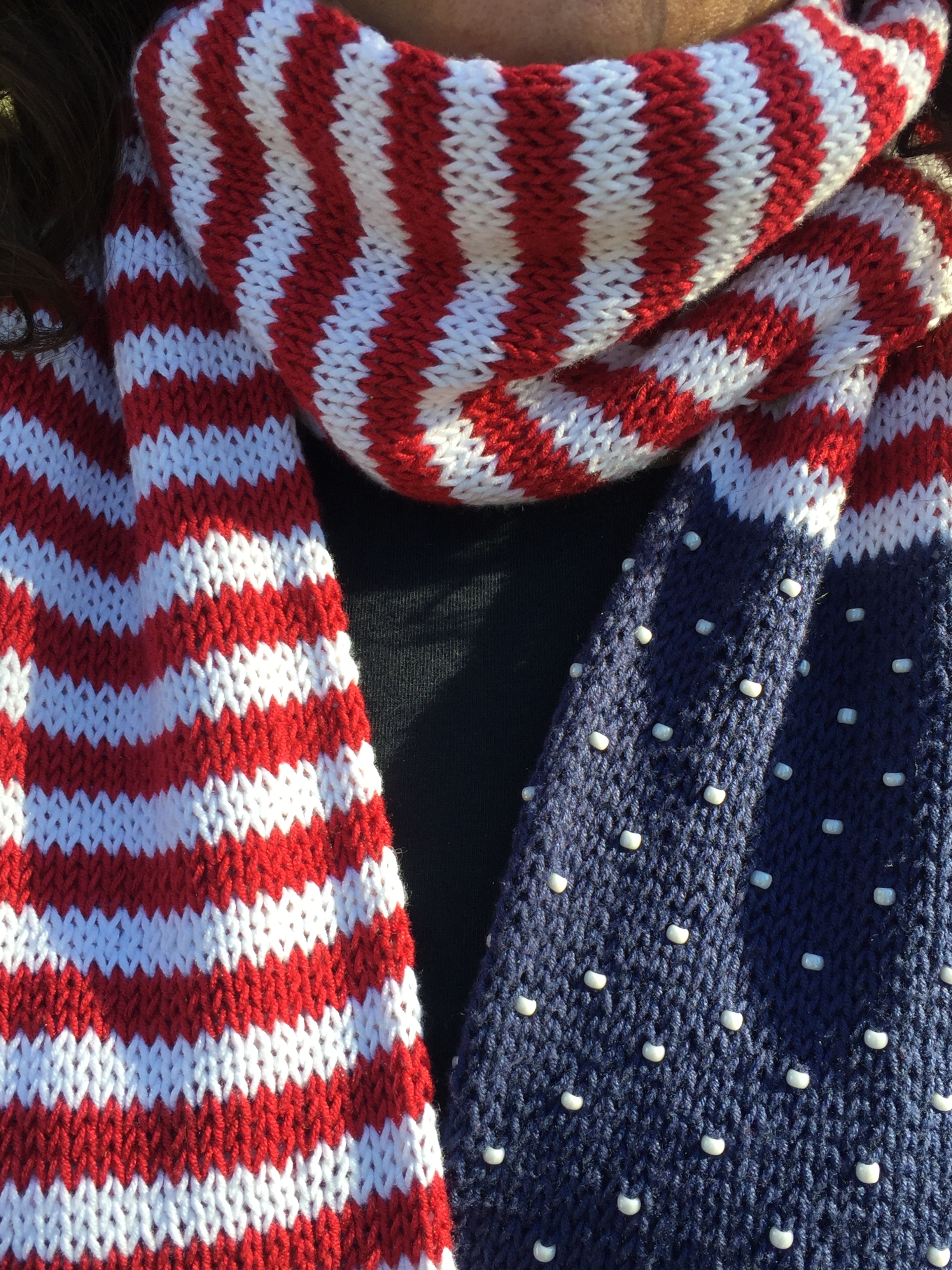 The protest is Patriotic Beaded Tube Scarf is an easy beginner knit-no purling! Directions include simple instructions for adding beads. Download the pattern below.
This is the one that started it all! Click on the free pattern link below to create your own Protest is Patriotic Shawlette!
I created the LGBTQ+Equality for Shawl because I was upset and angry at 45's tweet banning transgender people from the military. I chose to take my protest to my needles! It seemed many people were unfamiliar with the trans flag and I decided to add that image to the ubiquitous rainbow design for a wearable easy-to-make shawl. This pattern is free but if you download it, please consider making a donation to the following cause:
GLSEN, the Gay, Lesbian and Straight Education Network works to ensure all members of school communites are "valued and respected regardless of sexual orientation, gender identity or gender expression. " Donate here.
My niece wanted a very simple non-slouchy hat with a cable. I couldn't find a pattern for the hat so had to create one! I hope you will make the Kokomo Tulo hat for your loved ones as well.
Here's a stunning simple cowl that any beginner can do. It's just the knit stitch repeated over and over and makes a beautiful first project. This cowl is ideal for teaching new craftivists at your monthly meetings. A newbie can complete this with one ten dollar skein of yarn! Here's the picture and pattern for the bulky version. Below that is the worsted version. Use the pattern that works with your yarn weight.
Nevertheless, She Persisted Cowl
A simple cowl emboldened by our new national resistance motto!
Resist Pussy hat
There are so many available patterns for pussy hats. This one adds a little resistance!
American Flag Hat
It's time for us to reclaim the American flag. Standing up for our country is patriotic!
There are a number of wonderful websites for other free patterns. Here are links to three of my favorite resources: Purlsoho, Churchmouse and Teas and Ravelry. Once you get to Ravelry please join our Craftivist group. In our group you will find other resistance knit patterns and links to a variety of beginner patterns for new craftivists. People seem to like to post the most on Facebook so if you really want the latest resistance patterns, join our Facebook group. And if you are looking for a specific pattern, please feel free to email me and I will be happy to guide you.